KL285 (MC)(Y) Super precision is high–performance machine tool with tailstock, driven tools, Y axis and temperature stabilization.
Request
CNC LATHE with driven tools KL285
KL285 (MC)(Y)(SMC)(SY) Super precision is high–performance machine tool with tailstock, driven tools, Y axis and temperature stabilization.
It is suitable for universal and economical machining of flanges, shafts and bar material. A modular system and wide range of special accessories meet requests for turning with one support, same as requests for multi-axis turning. We will appreciate the use of rotary tools during the drilling and milling, especially outside the turning axis by the use of Y axis.
An excellent combination of power and accuracy is ensured by experience and design solution of individual mechanical groups. Synchronous integrated spindle motors provide the high dynamics of spindle function and a powerful rotary axis C. The rolling guide ways in all axes and at tailstock enable higher dynamics of speed. An excellent rigidity and stability of axes movements predestine these machines for production of very accurate work pieces of small batches up to specialized mass production. Transport of machine is either by crane or by means of a forklift.
Standard accessories
high precious turret (final machining after the assembling of the complete turret)
axial turret with driven tools (DIN5480) programmable tailstock
programmable tail stock
direct measuring of the axis X1, Y1 and Z1
pressure adjustment and movement of jaws on the control panel
through-hole clamping cylinder
spindle locking
chip conveyor
manual rinsing of working space
manual airblast
machine state signalling (beacon)
standard painting MAS
accompanying documentation (note – manual from control system on CD only in English language)
ethernet, flash memory
central lubrication
air adjustment (air supply to the machine necessary)
control system containing work shop programming (Shop Turn, Manual Guide, Smart Turn)
temperature compensation – includes the cooling of the ball screw nuts, flanges for the motors and underlay under the spindle unit
MACHINE WORKING AMBIENT
The machine is designed to work in a normal workshop ambient, without influence of aggressive fumes and dust particles. The temperature should be kept in a range from +15°C to +35°C, average temperature must not exceed 35°C by max. air humidity of 80%, absolute air humidity 15g/m3. Machine tool accuracy according to "Accuracy test report" could be reached when ambient temperature 20 ±3°C.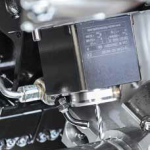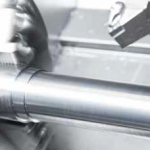 Does this model not meet your needs? We also have bigger option. More information to be found in our catalogue. The manufacturer reserves the right to change the product parameters and design without prior notice.